2023 Autumn / Winter Collection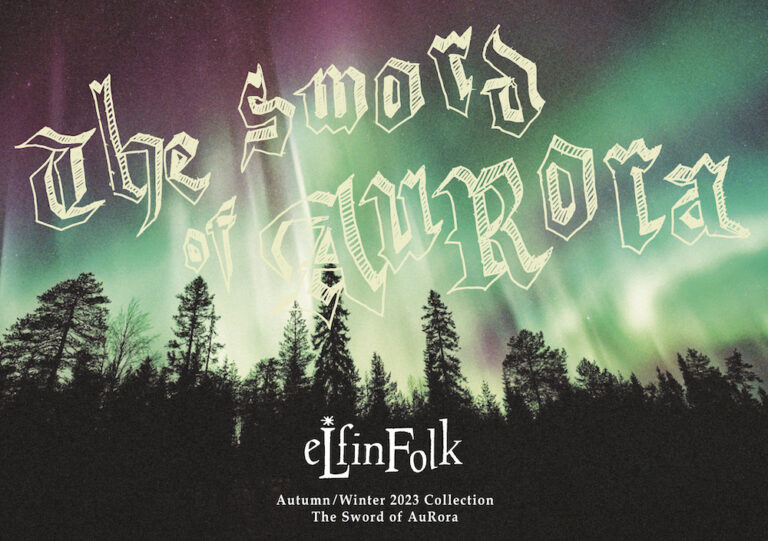 efinFolk 11th collection 
[ The Sword of AuRora ]
その刹那、騎士団長Repoの剣は光を放ち AuRoraは闇影を切り裂いた。
11回目となる2023AWのテーマは、
北の果ての王国を惑わす闇影と戦った騎士団長RepoのAuRoraの剣のものがたり。
ラップランドに古くから伝わるオーロラは、狐の火Revontuliと言われ、
獲物を求めて北極狐が雪原を走るとき、振られた尾は雪粉を巻き上げ、
無数の火花が天空に飛び散り、オーロラとなるという伝説があります。
その昔話から着想し、黒夜を切り裂く剣としてのAuRoraやトナカイ、
北極地のイラストをプリントしたTシャツや、ラップランドやアラスカなど
北極近くに暮らす民族の物語をちりばめたようなビエラのプリント生地や
エイトスター八望星のフォークロアな天竺ジャガードで白夜と黒夜を表現した白と黒の服たち。
クラシックなスキーウェアのような印象のコットンキルティングのコートやオーバーオール。
狐の耳付きのビーニー、フォークロアな小物とのコーディネートが楽しい冬のコレクションです。
[ The Sword of AuRora ]
Knight Commander Repo's sword emitted light,
and AuRora cut through the darkness.

The theme of the 11th AW 2023 collection is the sword story of AuRora,
the Knight Commander Repo, who fought against the dark shadow
that bewildered the Kingdom of the North End.
The aurora that has been passed down since ancient times in Lapland is said to be the fox's fire, Revontuli.
When a fox runs through a snowy field in search of prey,
its tail whips up snow powder and countless sparks fly into the sky,
creating an Aurora Borealis. There are legends.
A T-shirt printed with illustrations of AuRora, reindeer, and the North Pole inspired by the old tale.
Printed fabric with stories of people living near the North Pole such as Lapland and Alaska.
Eight Star's folklore jacquard clothing that expresses white nights and black nights.
Cotton quilted coats and overalls that look like classic skiwear.
A winter collection that is fun to coordinate with a hat with fox ears and folklore accessories.