2022 Autumn / Winter Collection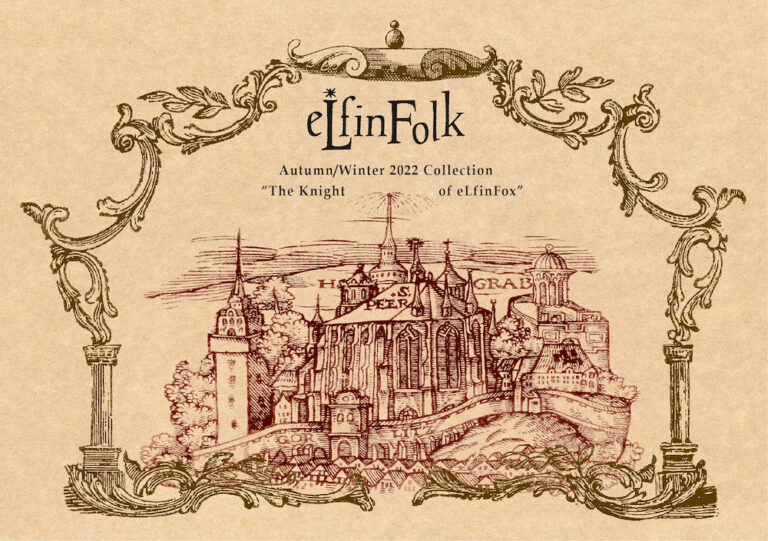 efinFolk 9th collection 
[ The Knight of eLfinFox ]
その王国に云いつたわる
きつねの騎士の英雄伝

2022AWのテーマは、
妖精王国の誇り高きキツネの騎士にまつわる
英雄伝を空想したコレクション。
黒馬にまたがりマントを羽織って
凛々しく正装したキツネの騎士さまやお城の王女さまをイメージして
勲章のようなラインをジャガードで表現したニットカーディガンやショール、
王国の城下町を大判プリントしたコットンネルのキルトジャケットやドレス、
クラシックなペーズリー柄を組み合わせたトレンチコートなど
シックなアイテムと耳付きのビーニー、
キツネのしっぽのようなマフラーやフォークロアジャガードのターバンなど
小物とのコーディネートが楽しいコレクションです。
[ The Knight of eLfinFox ]
-The Heroic Story of the Fox Knight

The theme of the 9th 2022AW collection is fantasizing
about the heroic stories of the proud fox knights of the fairy kingdom.
Knit cardigans and shawls with jacquard lines
that resemble medals in the image of fox knights and castle,
princesses dressed dignifiedly in cloaks on black horses,
and cotton nels with large-sized prints of the castle town of the kingdom.
A fun collection of chic items such as quilt jackets and dresses,
trench coats that combine classic paisley patterns
and accessories such as beanies with ears,
mufflers like fox tails, and folklore jacquard turbans.