2022 Spring / Summer Collection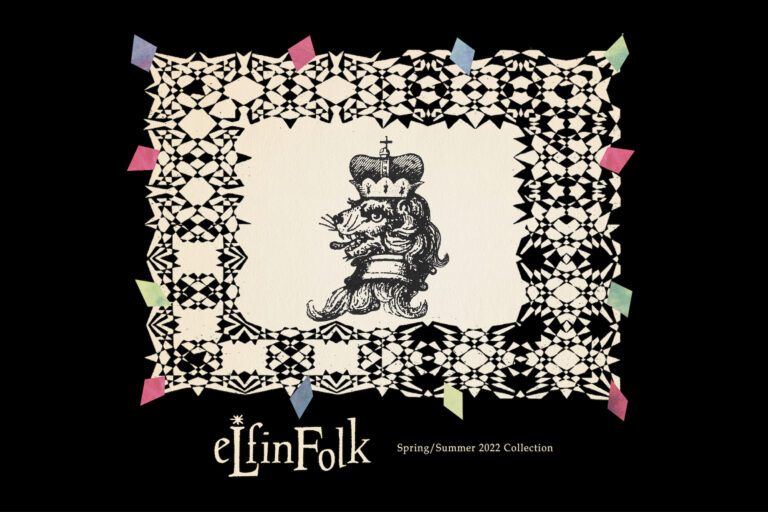 efinFolk 8th collection
[ LION KINGDOM ]
そこは、妖精たちの不思議の森
足を踏み入れたら帰り道を見失わないように…

eLfinFolk 今シーズンのテーマは、
中世ペルシアのような異世界の大河小説
 「アルスラーン戦記」 田中芳樹著を
読みふけりながら空想した王国のものがたり。
赤い砂丘に建つ砂漠のオアシスのような、
極彩色の街のけものたちやライオン王へとイメージを広げて、
エスニックなテイストのオリジナルFolkArtプリントや極彩色な染物、
タイガー柄にパープルやミントグリーンの色彩をミックスコーディネート。
Tシャツにはライオン王の紋章や、ペルシャ語でeLfinFolkと書かれたプリントなど、
物語のかけらを散りばめています。
Red dunes
Violet old castle
Ruri color, scarlet color, jade color
Country of colorful beasts
Drawing on the world created by
Japanese novel series "The Heroic Legend of Arslan" by Yoshiki Tanaka.
eLfinFolk draw on the magical world of Medieval Persia
and the colourful beasts and epic landscapes of red dunes
and violet castles and the king of the oasis in the dunes, the lion.
The fantasy world is combined with folk art prints,
colourful tie dyes, and tiger patterns with bold royal purples
and minty greens splashed through the collection.
The Persian influence from the novel series appear through the collection
inspiring that feeling of the fantasy of a far off magical ancient world.