2023 Spring / Summer Collection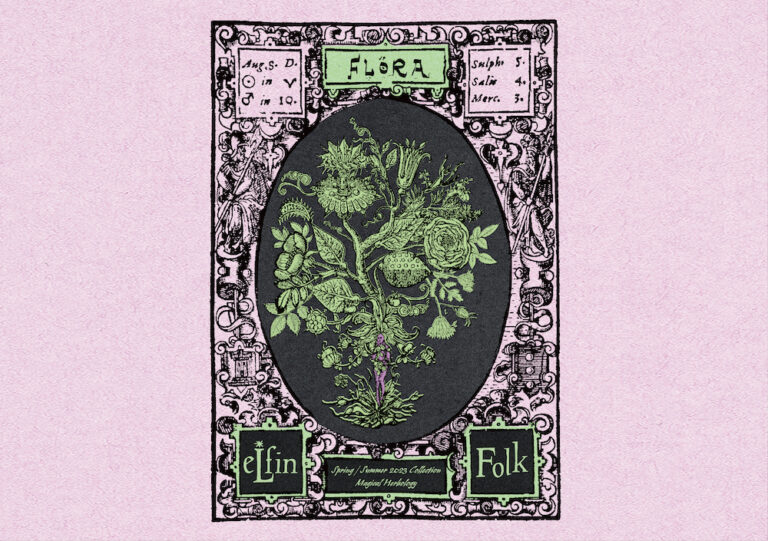 efinFolk 10th collection 
[ FLORA ]
フロウラ ‐ 毒も治癒の力も持つ花の妖精

10回目となる2023SSのテーマは
秘密の庭に咲くフロウラと呼ばれる花の妖精と
魔法薬草学にまつわるものがたり。
毒草も薬草もその身に植生する妖精フロウラをコラージュで描いた
オリジナル図案をプリントしたテキスタイルのつなぎやサスペンダーパンツに
老舗帽子ブランド CA4LA とコラボレーションした耳付きのガーデンハットを
合わせた薬草園の庭師のようなスタイル。
レトロでノスタルジックな花柄のエプロンドレスや
ボリュームスリーブドレスのガーリーアイテムや
グラフィカルな図案のTシャツなど、
日常の中にeLfinFolkのものがたりを添えるコレクションです。
[ FLORA ]
Flower fairy with the power of both poison and healing.

The theme of the 10th 2023SS collection is
the story of the flower enchantress Frolic,
who blooms in a secret garden and magical herbalism.
The style is like a gardener in a healing herb garden,
with a textile salopettes and garter pants printed with
the original Frolic fairy design,
who vegetates both poisonous and healing herbs on her body,
and the garden hat works with a CA4LA brand hat.
Retro and nostalgic floral aprons, girly elements such as
voluminous dresses with sleeves and T-shirts with graphic patterns,
this collection adds eLfinFolk history to everyday life.