2021 Autumn / Winter Collection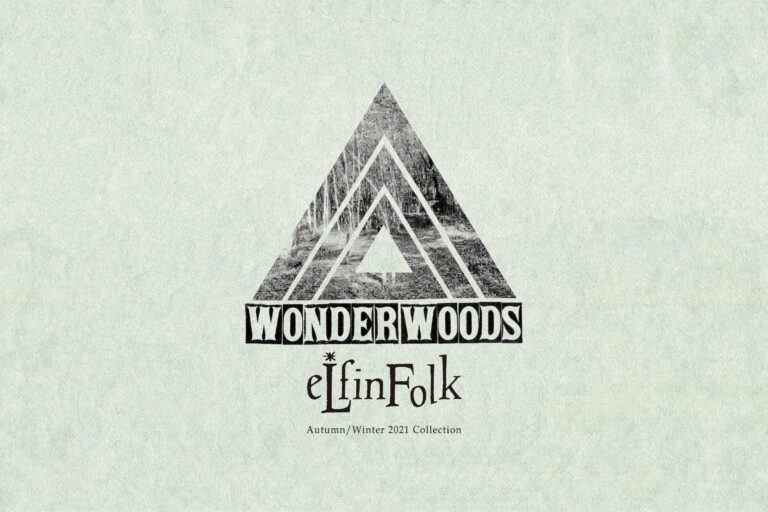 efinFolk 7th collection
[ WONDER WOODS ]
そこは、妖精たちの不思議の森
足を踏み入れたら帰り道を見失わないように…

eLfinFolk 7回目のコレクションとなる
2021 A/W シーズンは[ WONDER WOODS ]がテーマ。
C.S.ルイス著『ナルニア国物語』に登場する
半獣フォーンのタムナスさん(Tumnus)が頭の中に現れては
森の奥の妖精王国へと導いてくれたシーズン。
長野県の森で撮った写真をデザインしたトライアングルが
不思議の森"WONDER WOODS"への入口となりました。
宮沢賢治の絵本『やまなし』のクラムボンが連想される柄、
森そのままのリアルツリー、ゼブラやユキヒョウのアニマル柄、
クラシックな印象のフラワープリント、
民族的なジオメトリックジャガードのニットやタイツなど、
様々なテキスタイルを使ったアイテムと
耳付きのHATやアニマルファーのマフラーやブーツをコーディネートした、
空想の妖精王国の住民たちのコレクションです。



There is a mysterious forest of fairies.
Once you enter, don't lose sight of your way home…

This seasons collection imagines Mr Tumnus character
in C.S. Lewis's The Chronicles of Narnia,
a mythical faun, taking you on a journey to a fairy kingdom
in the depths of the mysterious forest"Wonder Woods".
The triangle designed from the phototaken in the forest of Nagano
is the entrance to the mysterious forest "WONDER WOODS".
Drawing inspiration from Kenji Miyazawa's picture book
"Yamanashi's Clammbon" the season combines zebra
and snow leopard prints, classic flower prints,
and folkloric geometric jacquard knits creates a collection of
looks for the inhabitants of a fantasy fairy kingdom.